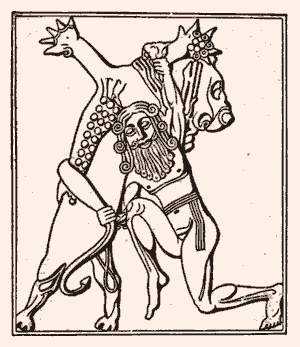 We live and die, but it is our unique fate to know that we live and die.
That's an old insight, probably realized by our early ancestors, when they were hunting their prey to exhaustion on the African plains.
From there, one can go in many different directions. The absurd man takes that insight at face value. He accepts it and, in fact, finds it freeing. If we're all going to die anyway, what's the point in worrying about stuff? Might as well live for today.
That too, is a very old idea. We didn't realize just how old until we found it in the ancient tale of Gilgamesh. And when we say ancient, we mean ancient. When the tale was lost in the destruction of Nineveh in 612 BC, it was already 2,000 years old!
Gilgamesh was very popular throughout the ancient world. Lost lines were found in many of the languages of the Near East – Sumerian, Akkadian, Babylonian, Elamite, Hittite and more. And there are many variations of the tale.
While traveling Down Under, we picked up a copy of Martin Edmond's Zone of the Marvelous: In Search of the Antipodes. (The antipodes is often used to mean Australia and New Zealand.) It was here we found the discussion on Gilgamesh.
"Gilgamesh is about an ancient Middle Eastern king's quest for immortality and his coming to terms with the inevitability of death," Edmond writes. Young Gilgamesh lives it up. He has many lovers. He parties and drinks a lot. In the process he angers the gods (by killing the Bull of Heaven). The gods decide to kill his pal, Enkidu, in retribution. Gilgamesh is distraught, "fearful…that his friend's fate will also be his."
Afraid of death, he goes on a journey to achieve immortality. We'll skip over his many adventures here and focus on just one encounter. In the earlier versions of the story, he meets with Shiduri, who is a kind of tavern-keeper. She is the absurd woman in the tale.
Her advice to Gilgamesh is to give up his quest and accept his inevitable death. As Edmond writes: "Shiduri tries to dissuade him, using words later echoed in Ecclesiastes: 'fill your belly with good things, day and night, dance and be merry, feast and rejoice…'"
Shiduri is the absurdist voice in this old tale. She is the one who gives the wise advice that says if you are going to die, you might as well live life to the fullest and not worry about your death. Shiduri advises Gilgamesh to live an absurd life.
We don't know who put those words in her mouth. The author (or authors) of the tale is lost forever. But the fact that the words exist at all means there was an ancient absurd man somewhere back there in the mists of time.
Absurdity, perhaps, is as old as consciousness. When the first man (or woman) looked up at the sky - perhaps frustrated by his hunger or angry at the sun - and wondered why... and then accepted his fate, he was on his way to absurdity.